Preparing learners of today for the needs of tomorrow
Validating a new education tool for an ever-changing economy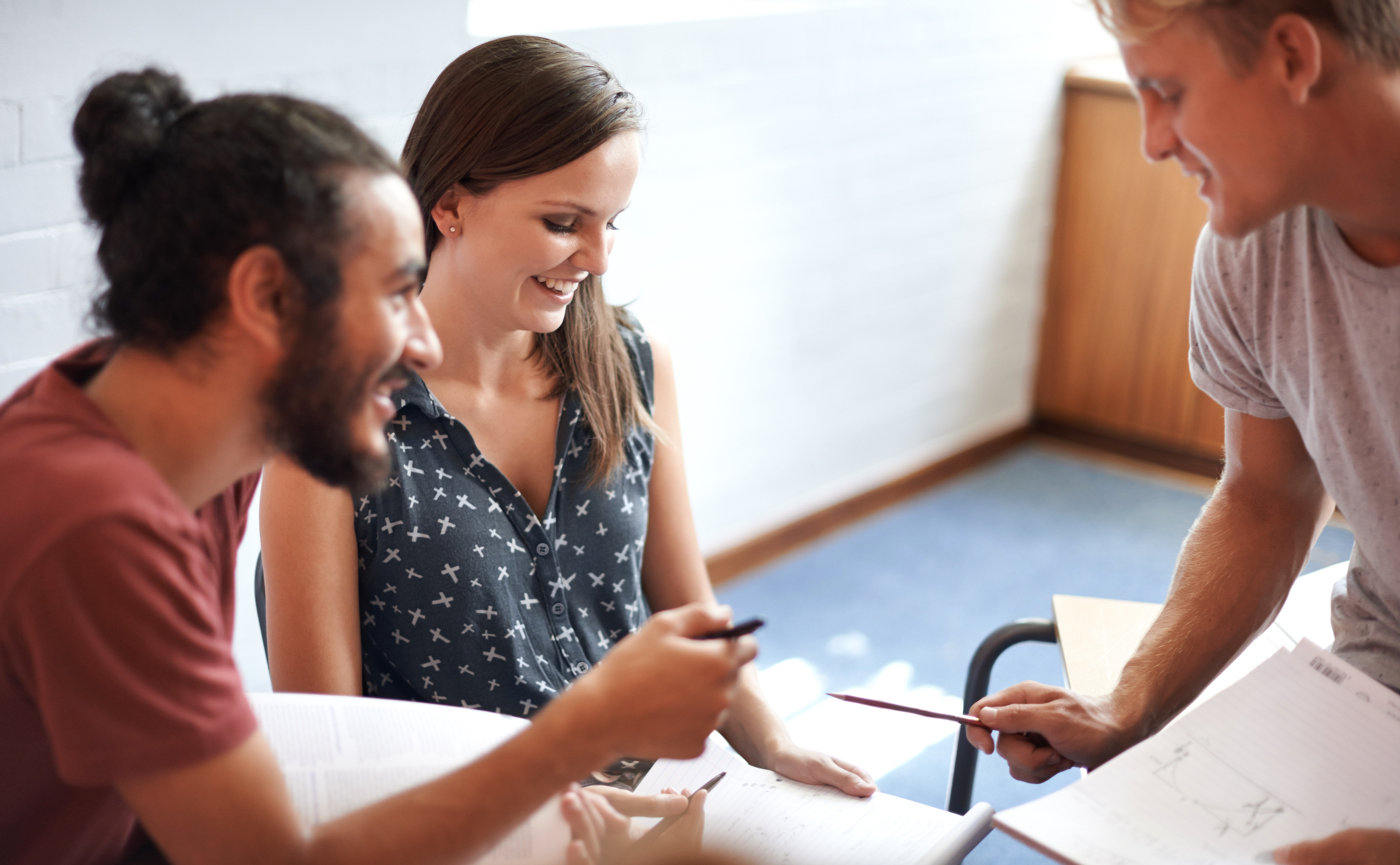 "
How can education remain relevant throughout a learner's lifetime?
OpenIDEO
"
Over the next decade, half of the employment opportunities will exist for the first time. So how do you ready the current students for this enormous shift?
OpenIDEO decided to make this the focus of their Future of Higher Education Challenge. I joined the team as a community prototyper to teach entrepreneurs how to validate and refine their early-stage ideas in order to get the support they need to launch their products into the world.
I teamed up with entrepreneur Chris Shaw, whose vision for the future of education is called Sidekick. Sidekick uses artificial intelligence to track how students solve real-world problems and then match them to suitable careers. Although the idea sounded exciting (and something we wished we could have used during our college years), we needed to determine if students would use it, and more importantly if the industry had a need for it.
I got to work showing Chris how to validate and refine Sidekick.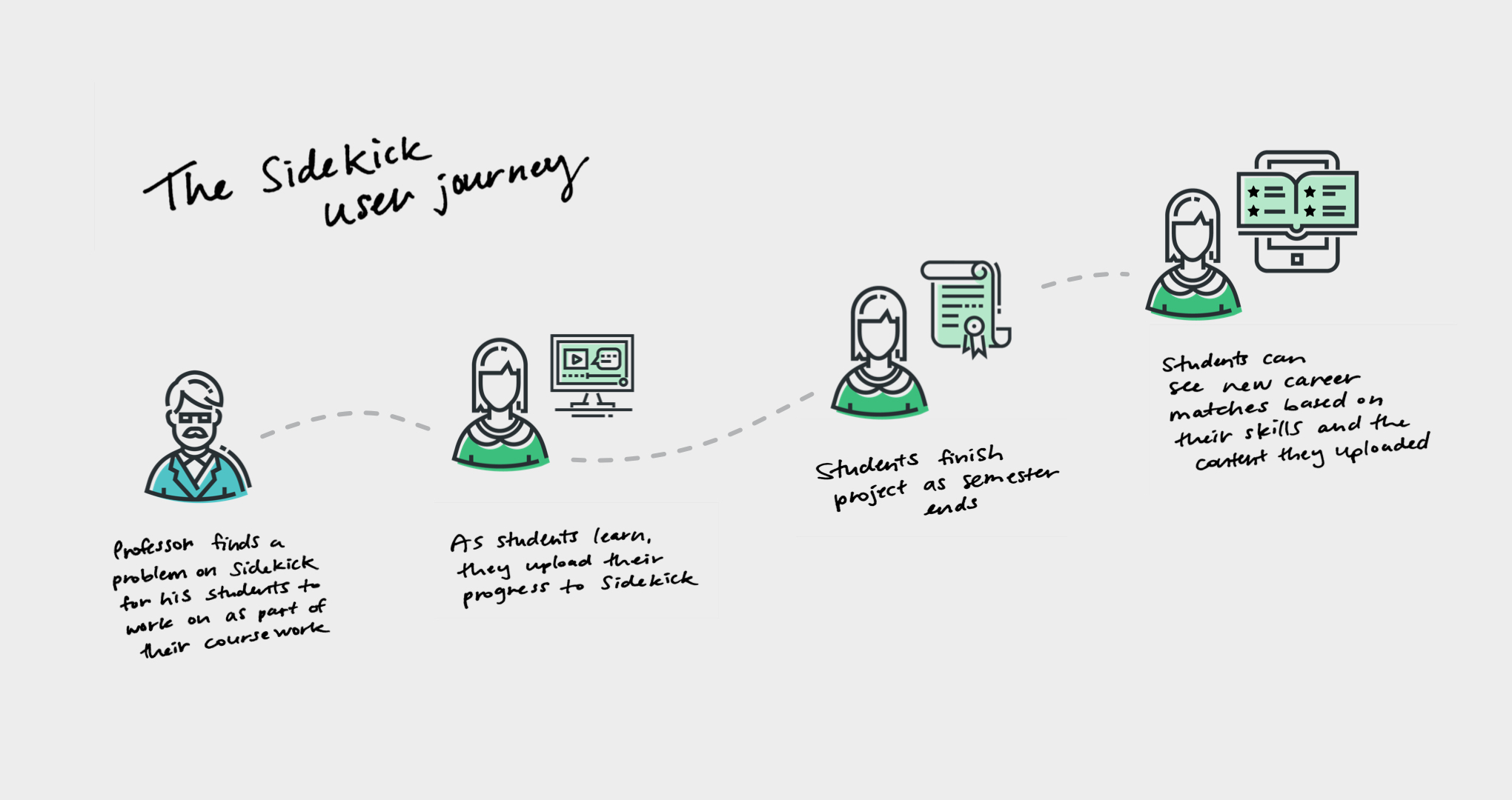 I knew we first needed a deeper understanding of the problem, so we put aside the concept of Sidekick and looked into the current education system and its flaws. We also looked for possible competitors to make sure nothing similar already existed.

We found a ton of information supporting the need for a revamped education system. More than ever before, professional skills are becoming obsolete at a much faster rate.
And while it's impossible to know which careers will be needed or created in the future, data suggests structured careers are quickly being replaced by roles that require a vast spectrum of problem-solving and conceptual thinking skills. These are the skills that move our world–and economy–forward.
We also found that student engagement and learning increases while working on real-world projects. The best part is that this style of alternative learning helps build the broad set of skills our future needs.

This initial research not only helped us get a better understanding of the industry, but it also gave us confidence that a product like Sidekick could succeed. Even more so, it prepared us for the next step–getting to know our users!
We thought of all the different people that would use Sidekick, both directly and indirectly: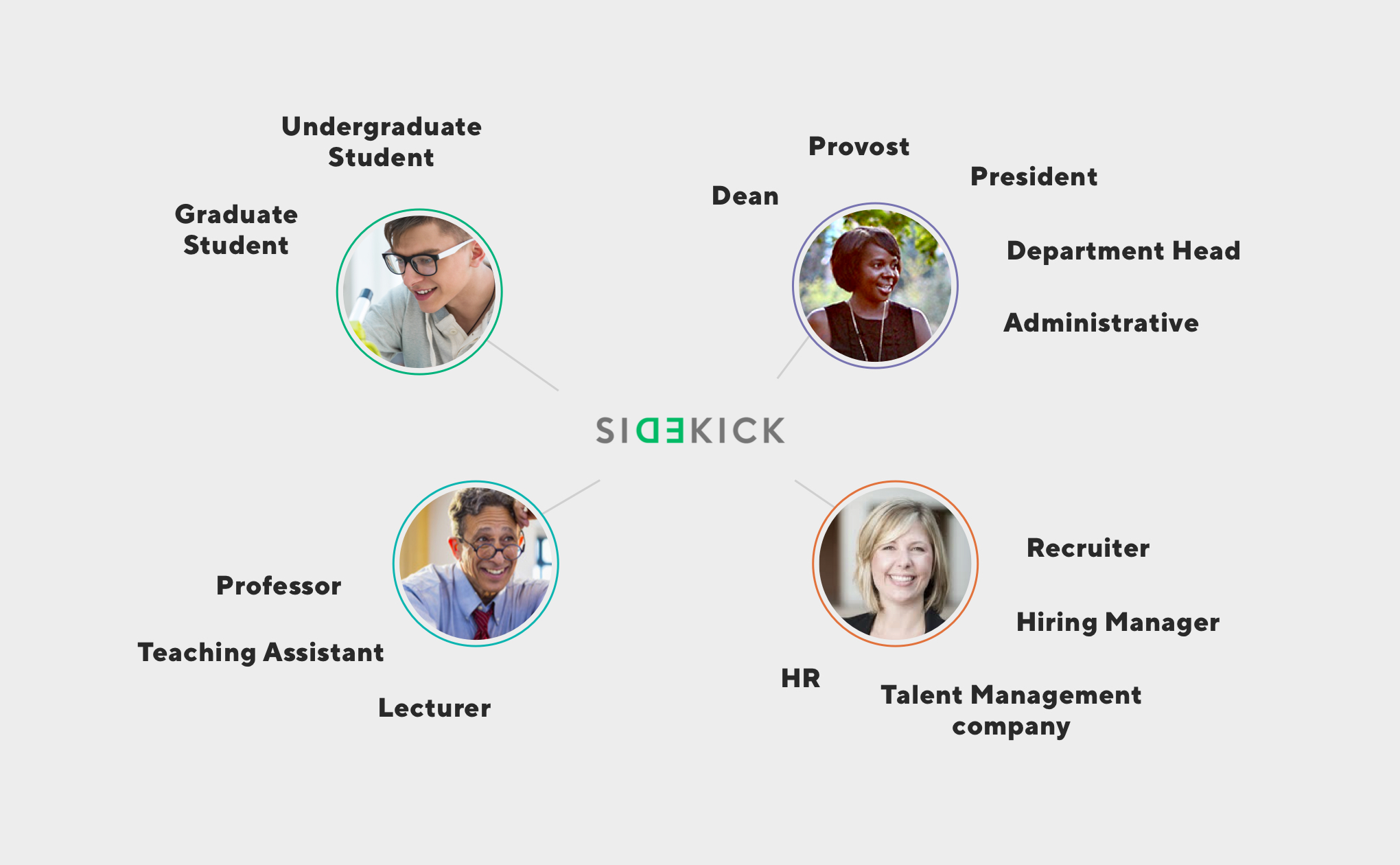 We would ultimately talk to each of these different users, but we first focused on our primary users–the students and professors–because they would be the ones engaging with Sidekick the most. Their adoption would be crucial to the product's success.

Chris and I met with dozens of students at different schools. Since this was early on in the design process, we wanted to hear as many perspectives as possible.

I started by asking the students some basic questions about their interests and background, and then dove into deeper questions about how they currently study, learn, and ultimately decide on a career. When they told us they didn't use their school's career center, I wanted to know why. Hearing about the out-of-touch and limited resources made us realize this problem exists for many other students.
We also listened to how students spend their time each day in order to understand what's most important to them. Studies and socializing came up the most, while career searching seemed to be an afterthought, even for juniors and seniors. Digging into this more, we heard career discovery can feel daunting and most students don't know where to even begin.
Besides learning a ton from the students, we noticed some themes:
We ended our conversations by asking the students about their thoughts on a product like Sidekick:
"It would be cool if the entire school adopted it so all your classes use it, rather than just a couple."
"Gives us actual problems to work on AND helps me find a job I'd be good at? Win-win."
"How do I know it's going to be as good as a human person? That's a lot of faith to put in technology."
We heard a lot of positive reactions as well as concerns and ideas we hadn't considered before. I took note of these to address in our future explorations.

We then spoke with professors to understand their current processes. The needs we heard about were promising for the potential of Sidekick: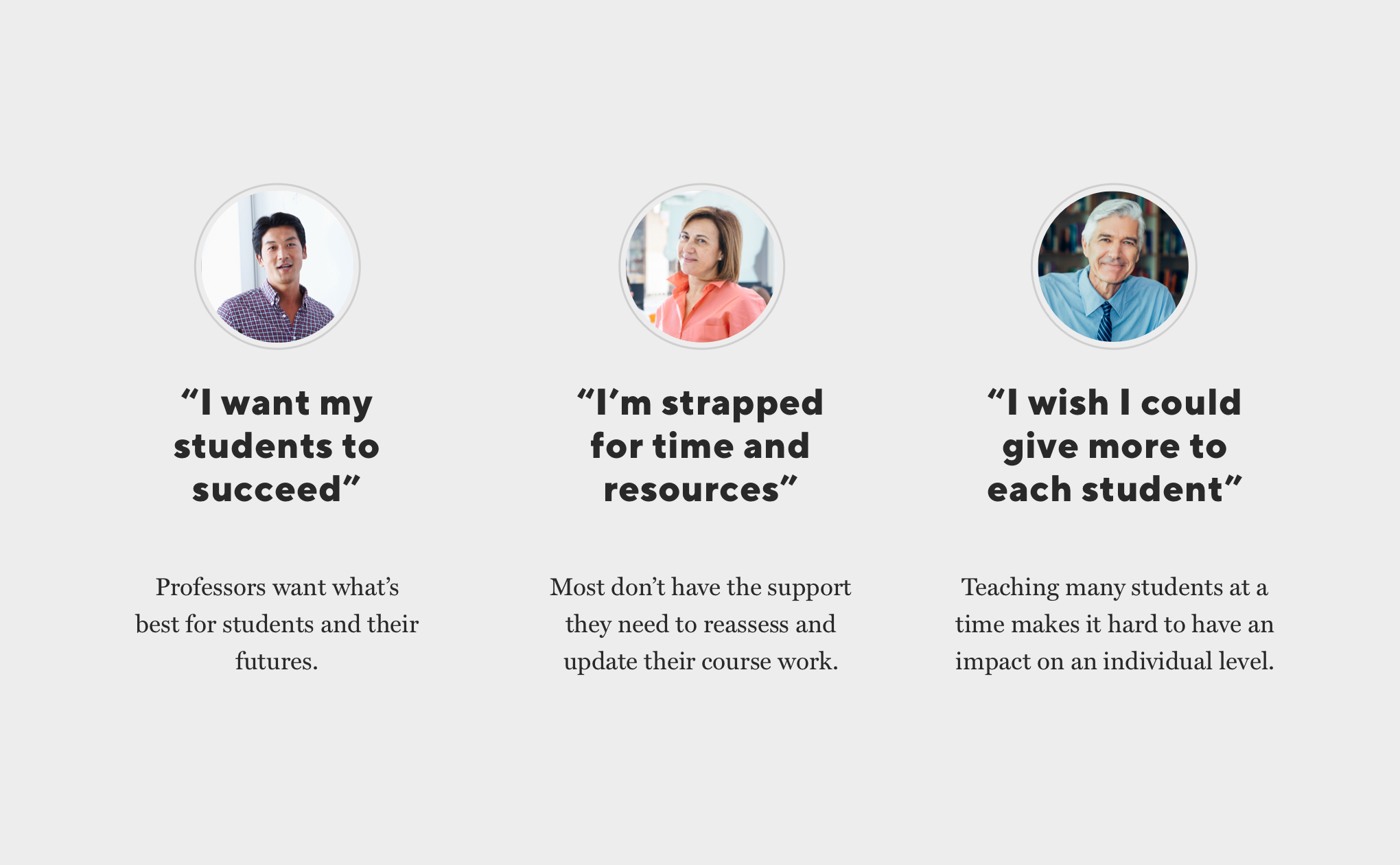 We also talked to school administrators and companies to see how Sidekick would fit in with their work.

Our research and conversations helped inform personas that I created for Sidekick's key users. Large quotes highlight the main needs so we can keep them top of mind throughout the design process.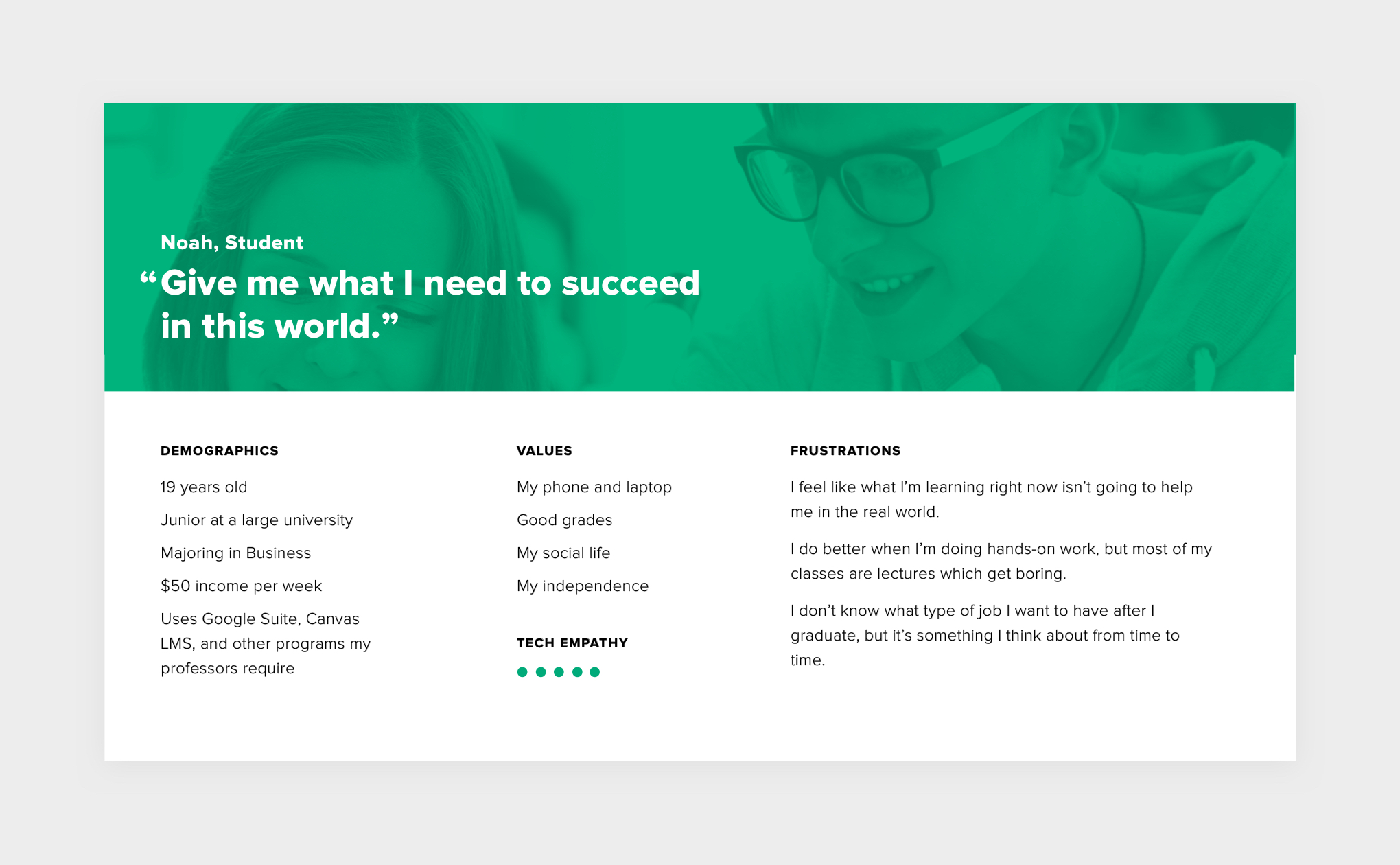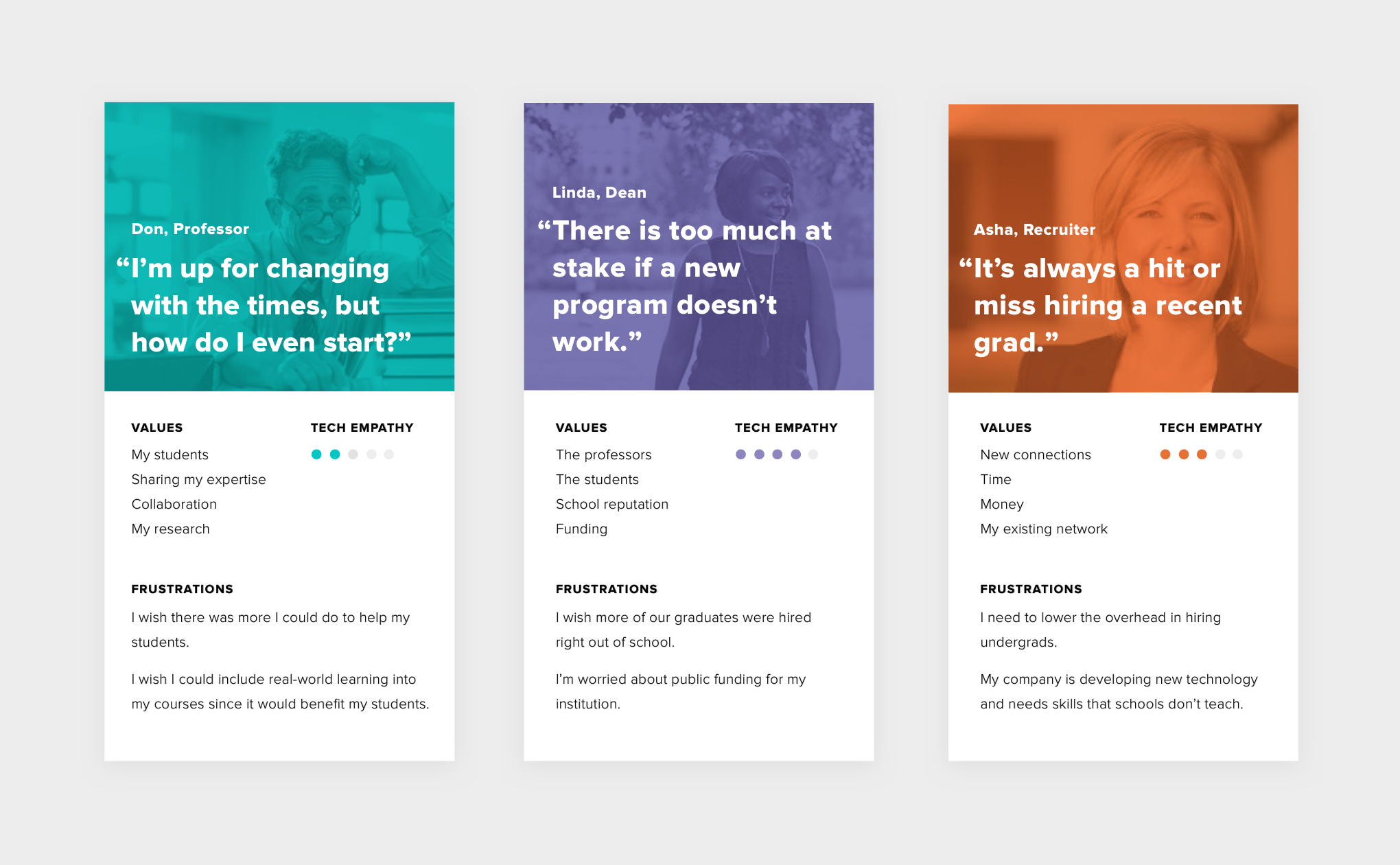 I then mapped out the end-to-end experience with the personas. Seeing the full lifecycle of Sidekick allowed us to notice the big moments where design could really be impactful.
It also helped us think about how Sidekick would be used: in the classroom? Out in the world? Is a desktop or mobile experience preferred to work on assignments, find careers, or see students' progress? What content is useful in each experience? How do students' needs change from freshman year to senior year and beyond?
We ended up with a lot of ideas to think through and refine.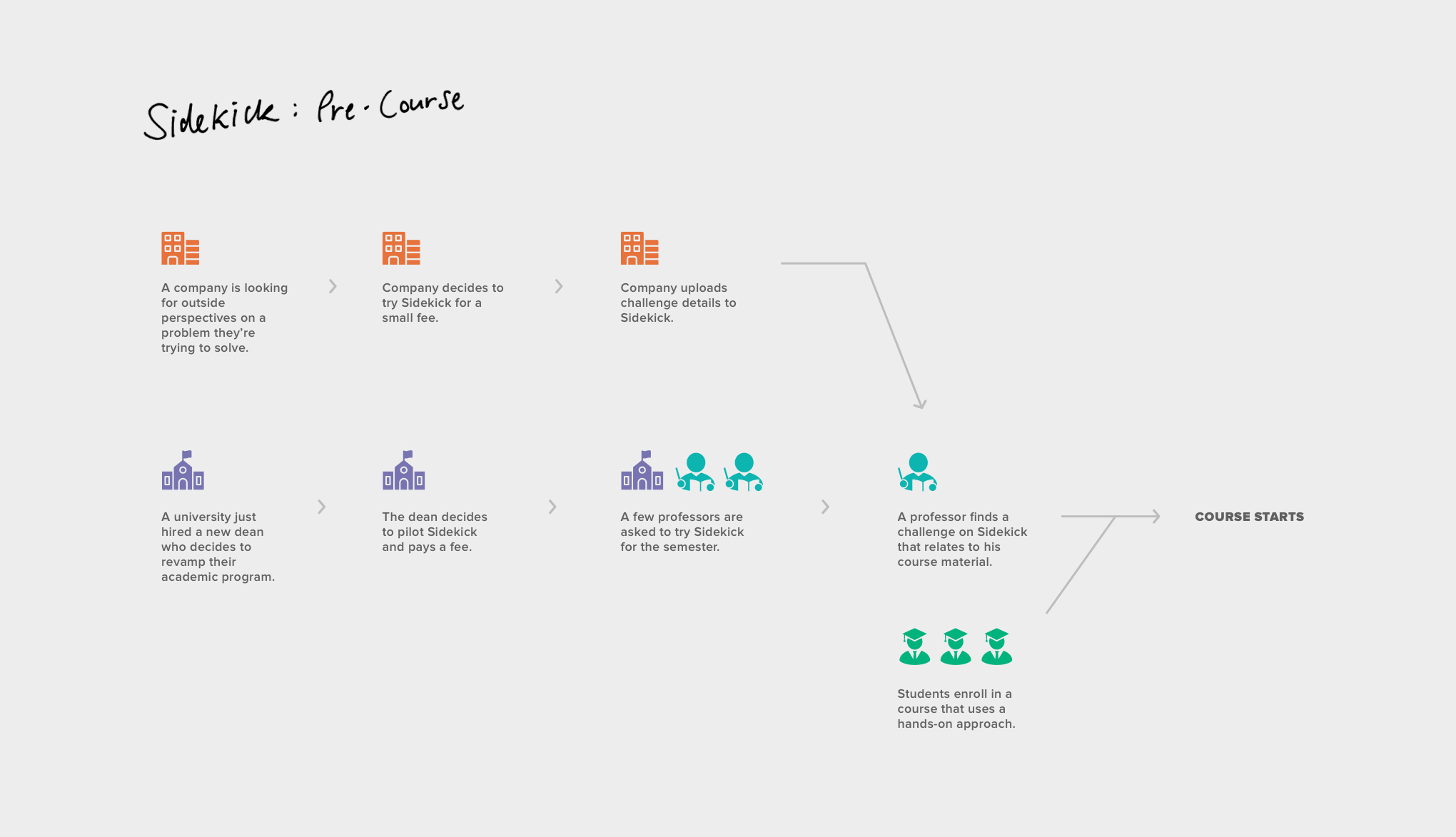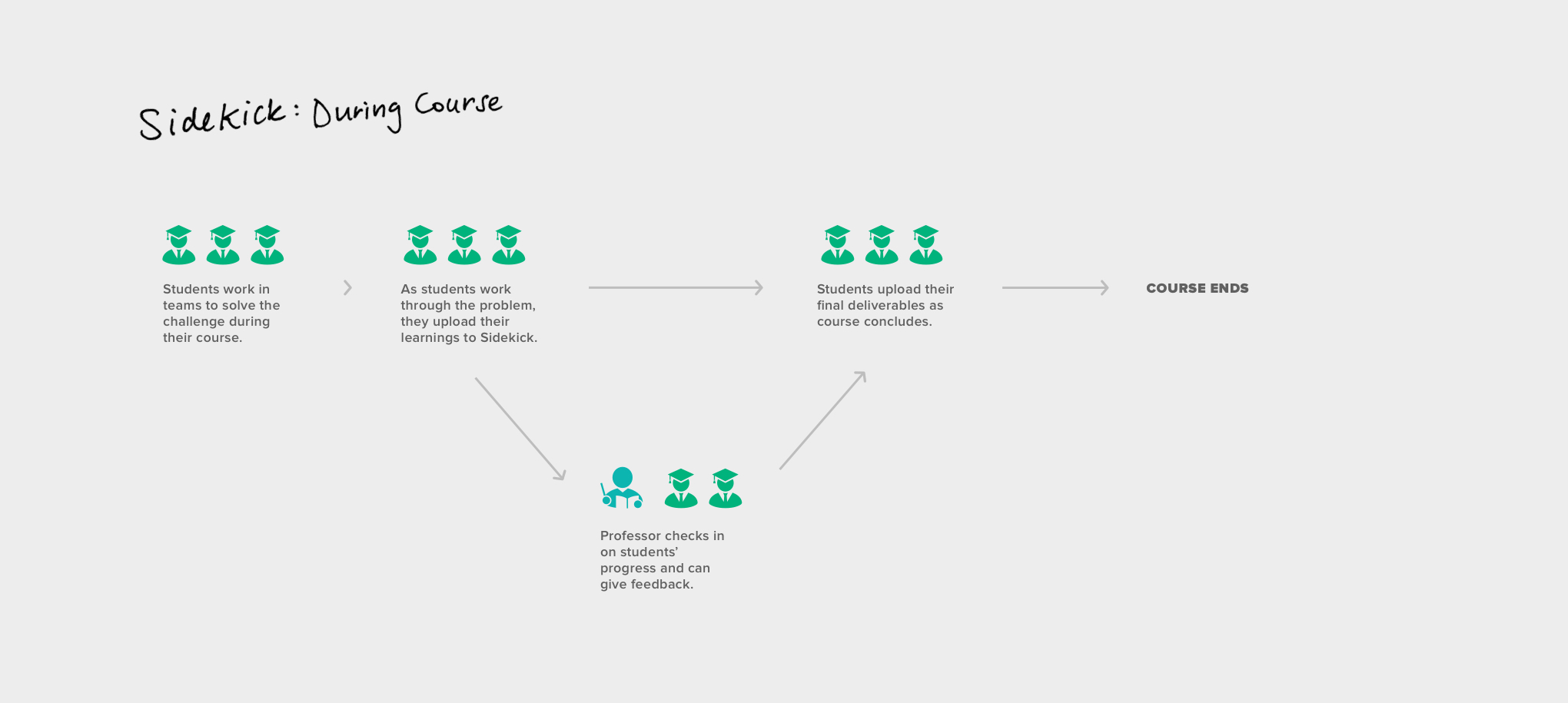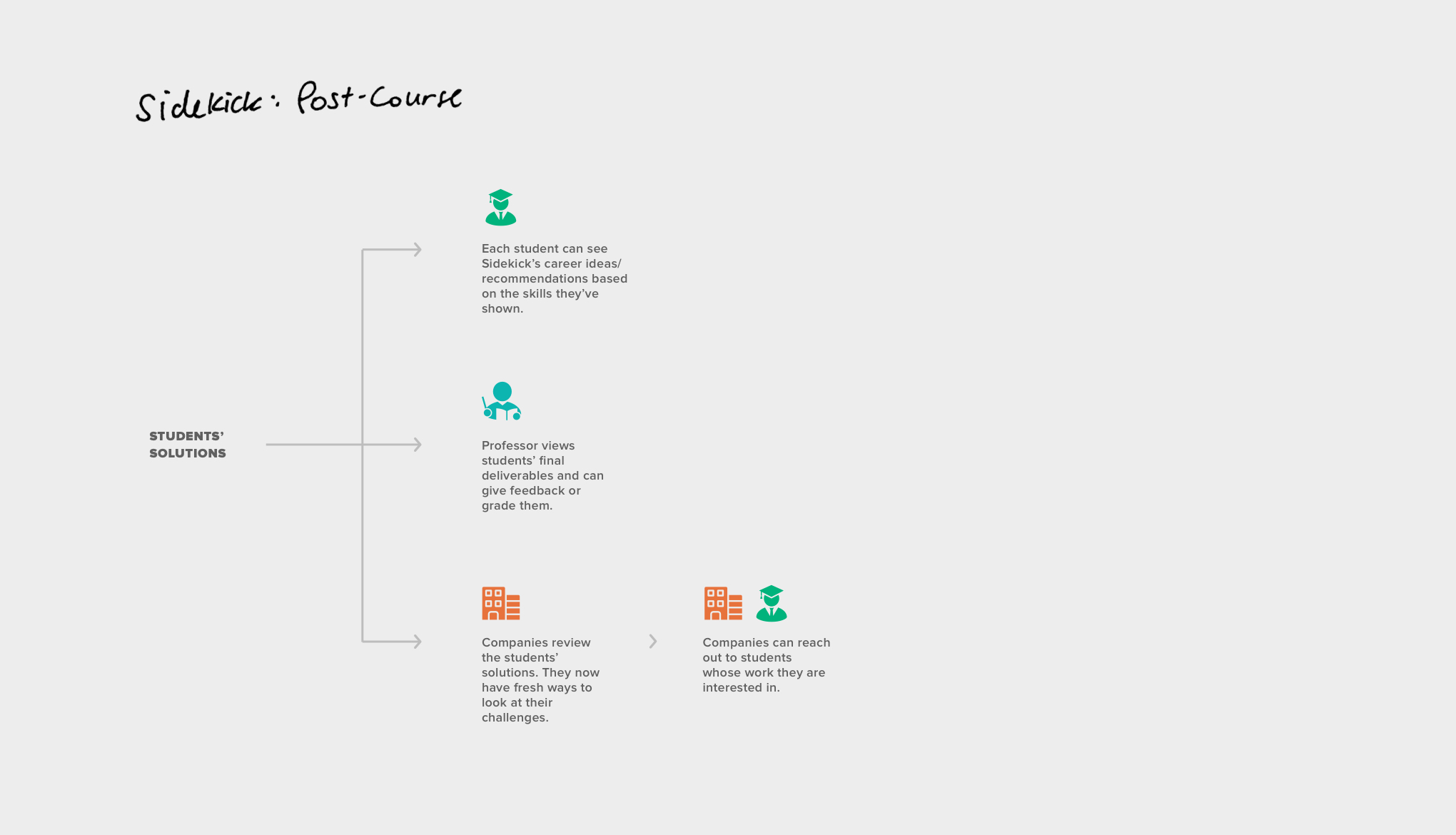 I also created a story to show Sidekick in action. This would help us and our future supporters visualize how Sidekick works on a human level from start to finish.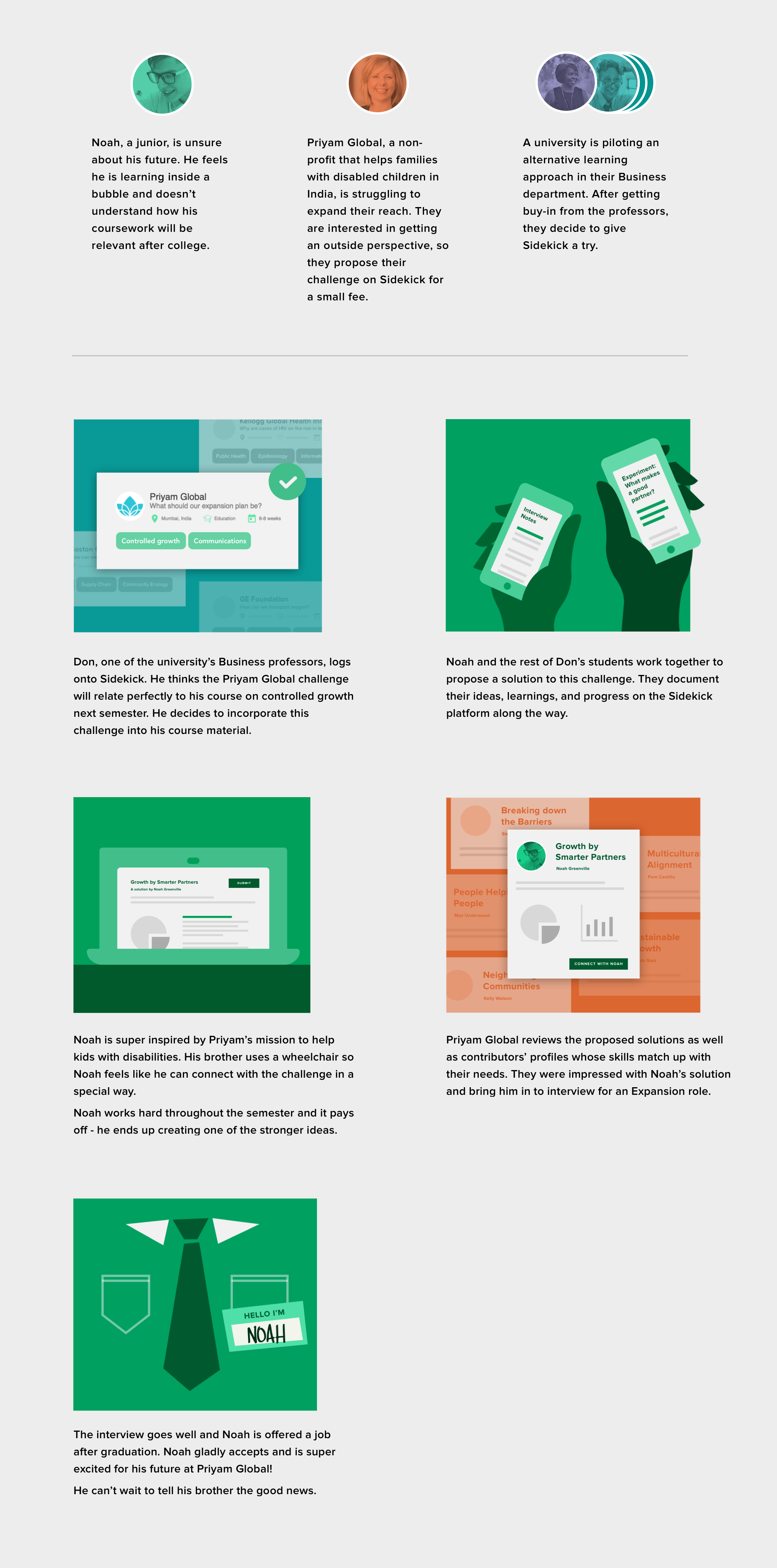 OpenIDEO put us in touch with experts in the higher education space so we could get feedback directly from the field. This was a great opportunity to hear about things we may have missed from people who know the industry well.
Their overall impressions gave us confidence that we were on the right track:
"The industry lacks innovative ways for students to be engaged in real-world, project-based learning opportunities, especially geared towards students in higher education as they begin to think about career opportunities post graduation."
"This type of tool is needed. I have not seen an alternative on the market."

More importantly, their insights on where to focus our efforts would help us make the greatest impact:
"How does it match students with careers from how they solve problems?"
"It seems like it could be challenging to sell this to professors since it is a new concept."

With all of our research and findings, we iterated on Sidekick in cycles of thinking, creating, and testing. We incorporated the feedback we received to make the product better–like ensuring the level of effort remained low for professors and gaining the trust of the students from the get-go.
Re-working aspects of the product would continue to happen with each new thing we learned.

In just a few months, I was able to help Chris validate and show the promise of Sidekick.
Sidekick was chosen as a top idea on OpenIDEO's platform from hundreds of submissions addressing the future of higher education. Chris and his team were awarded grants to further explore the artificial intelligence and prototype an MVP experience.
Impact
Sidekick successfully launched in 2018 and is already making a difference:
An initial pilot in Chicago showed an increase in sudent engagement by 5 times.
"I have some of my lowest performers in my first period, and I see them caring more about their work than they did all year."
Bill, Algebra Professor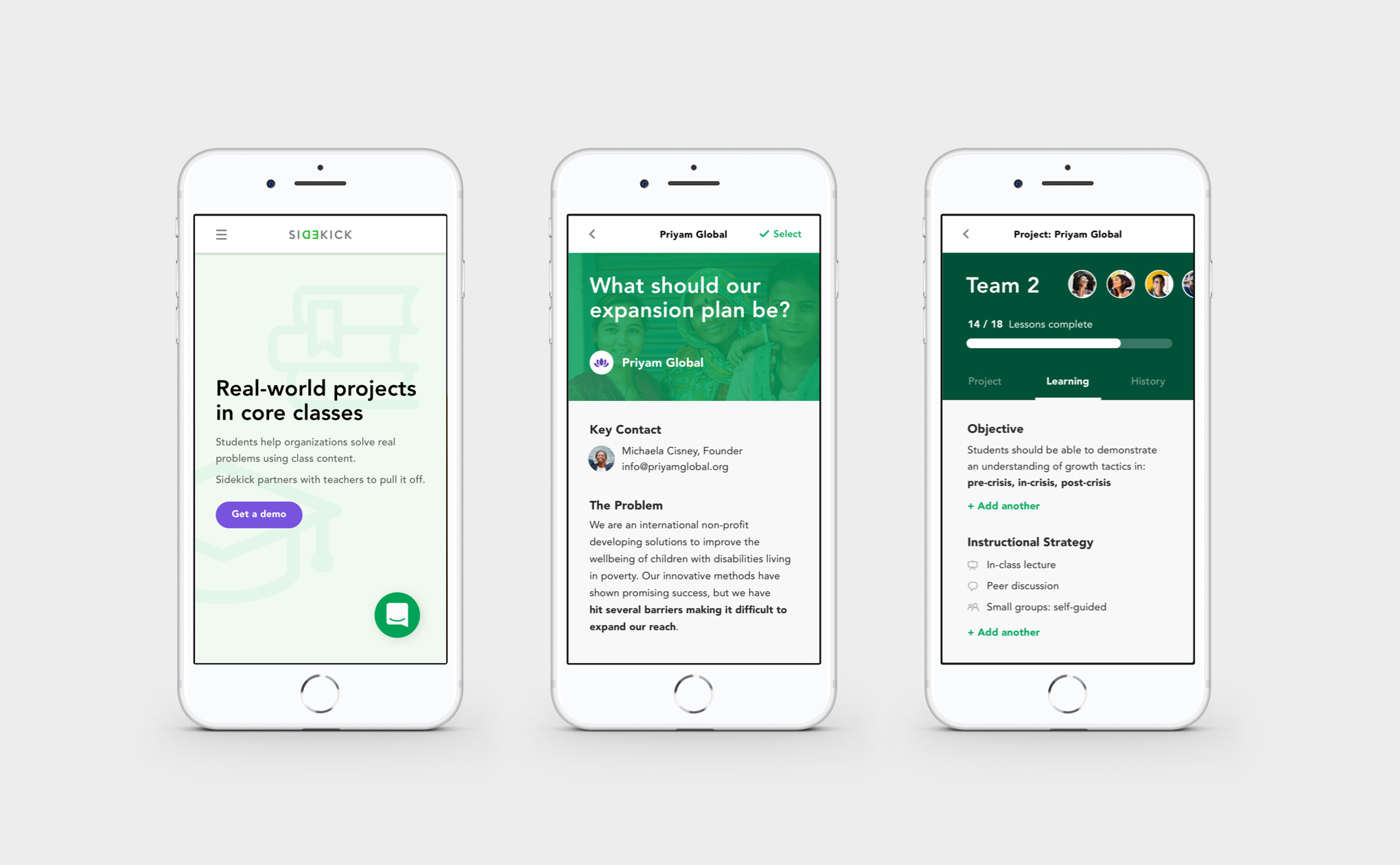 Sidekick continues to grow and evolve with the ever-changing needs of the future.